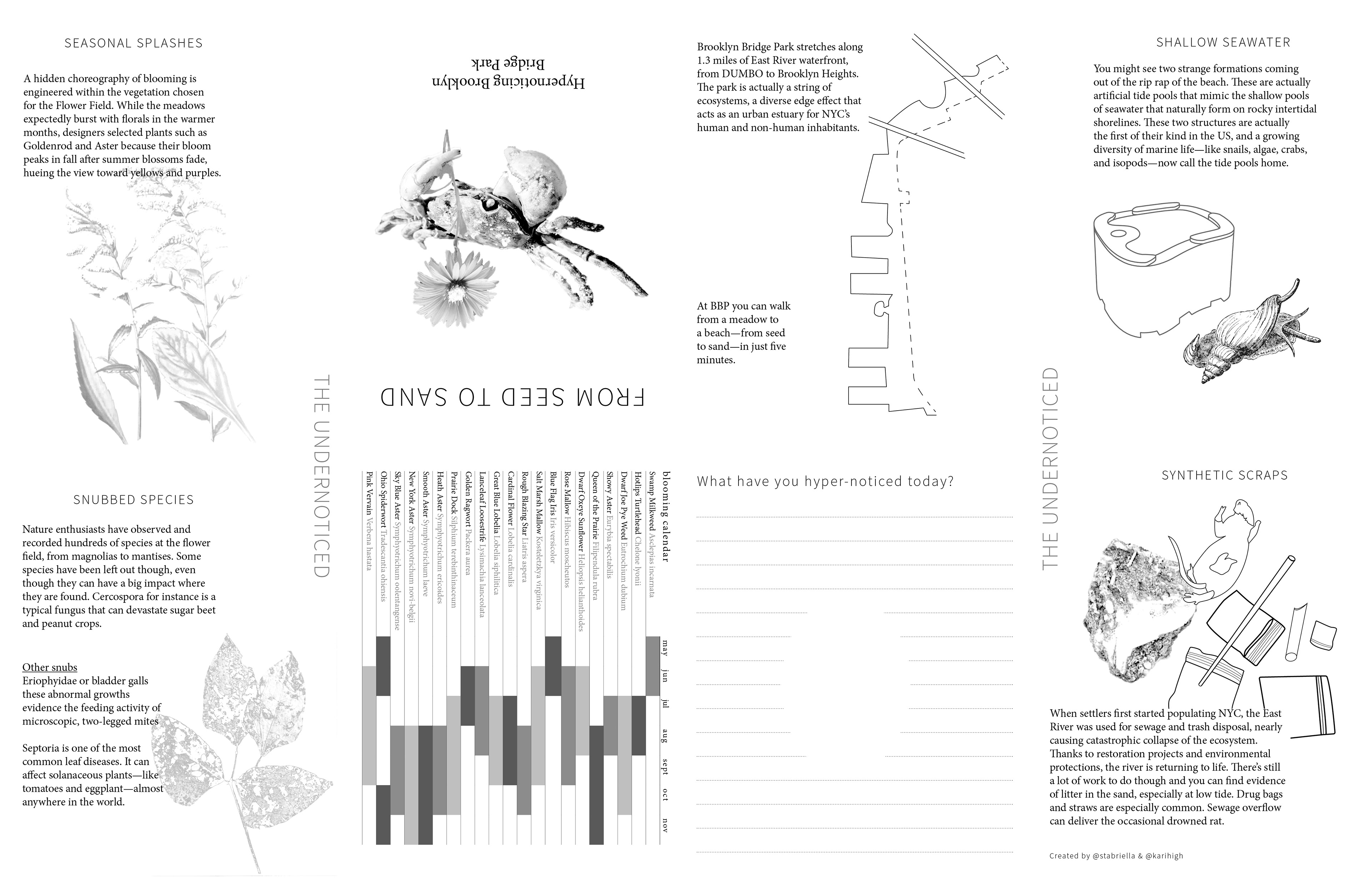 This semester long project was part of the class "Designing the Post-Natural" taught by Tega Brain. The project's brief is as follows: 
Internet companies regularly talk of the 'attention economy', a concept that frames human attention as a scarce commodity for which they are always competing. In this semester-long assignment, you are to reclaim a small portion of your weekly attention and practice what Anna Tsing calls the 'arts of noticing' by regularly observing another life form or ecosystem.
Choose either a species that lives in New York (a plant, animal, insect, fungi etc.), preferably one that you don't know much about, or an ecosystem such as a stretch of canal or an empty lot. You must choose a species/ecosystem that you can observe from time to time (at least weekly). For this assignment you are to visit your chosen entity, and make observations for a period of at least 20 minutes, at least once per week. When you do this, you are to put your phone in aeroplane mode or leave it at home.

The beach is located in what's left of the Pier 4. It has two shores, a bigger and a smaller one in front. These are separated by the Bird Island which has "salt-tolerant shrubs, grasses and trees to encourage the growth of a diverse ecology" and it's out of bounds. You can't swim, wade or climb the rocks that surround the beach. Just launch non motorized floating devices such as paddles, kayaks, etc. 
This place called my attention because in my experience, beaches are exclusively something found naturally in a much bigger scale than what google maps calls this piece of yellow area, a beach.
As I was understanding the concept of Post Naturalism, it occurred to me that this beach would be a good example of this concept.
September 11th | 5:50 pm. | Sunny
One dog fetching a stick in the water. A couple, barefoot.
Plastics: Bottle caps, plenty. Wild animals: 0.
September 18th | 4:30 pm. | Breezy, 21º C, partly cloudy
Two puppies and their owners, one professional photographer. I splashed my sneaker with a bigger than expected wave. There are three "pools" made out of concrete with a strange shape. One is destroyed, but the other two seem ok. They are filled with water, therefore moss and tadpoles.
Plastics: A tampon cover, a can packaging, a rubber band.
Wild animals: Many flies, many bees, a tadpole? Algae, a big black fly.
September 24th | 12:30 pm. | Partly cloudy
No one. I climbed the rocks. Peaked the other side of the island. Since "swimming and wading are not permitted at the Pier 4 Beach" I want to put a camera to see further from the sand. My next step will be to build a floating device in which I can hold a gopro to see spots I cannot reach. Also, I want to submerge the camera to see underwater. This might need a waterproof lamp.
One of those pools has much less water than before. No tadpoles to be seen. Did some research and they are "[a] modular concrete Tide Pool Armor [that] creates well-defined local ecosystems that mimic natural rock pools, increasing biodiversity while providing robust protection from hydrodynamic forces." made by a company called
ECOncrete
.
Plastics: Not observed.
Wild animals: Many bees in the bushes, a small bird.
October 11th | Rainy, visit cancelled
Built a floating device for to put a camera on it.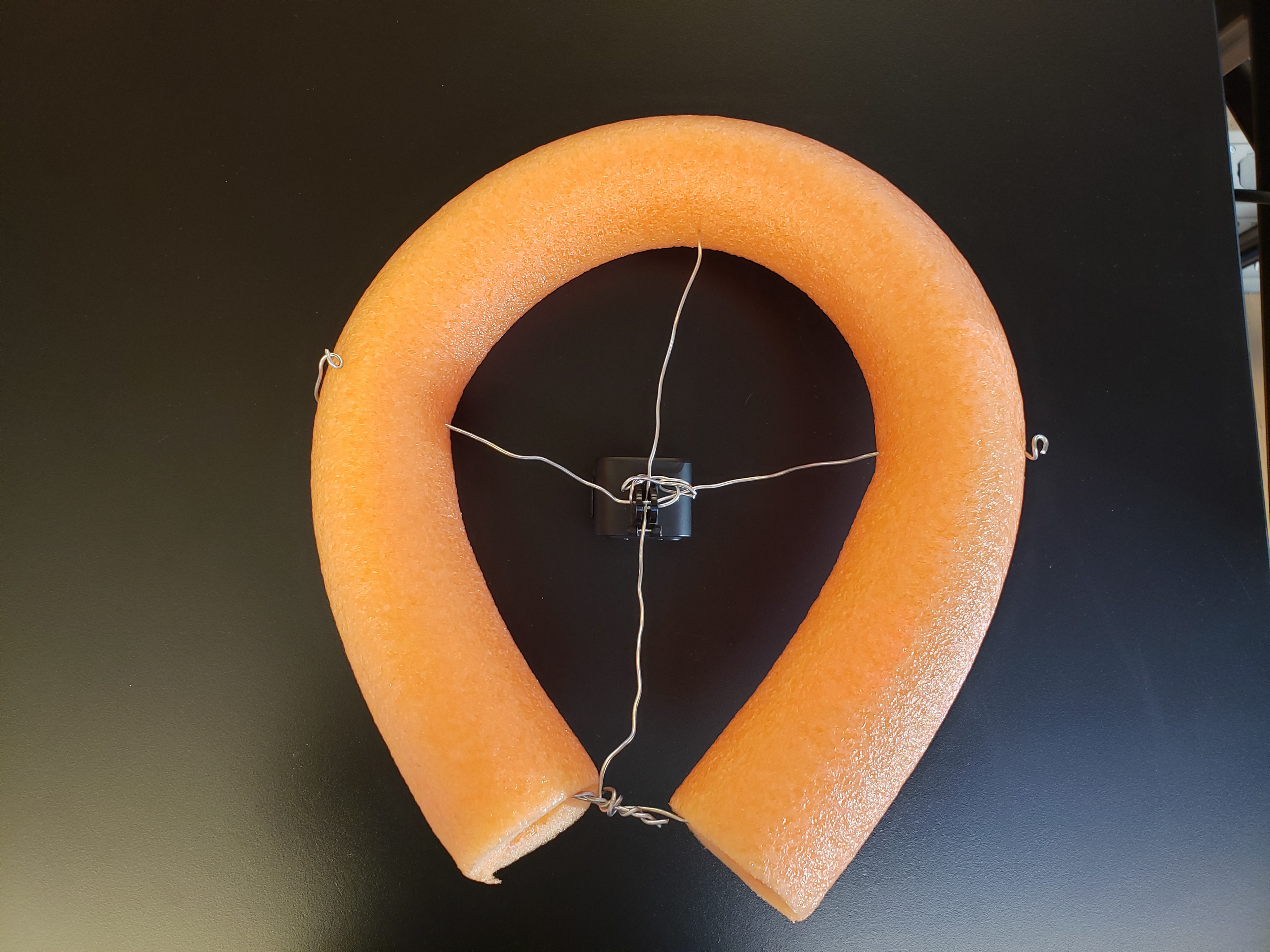 October 18th | 1:00 pm. | Sunny 
I brought the camera and threw it in the water. It was designed to float upwards to record from above and downwards so that the camera is submerged. After a while, the wire bent so it automatically flipped downwards.
A bridge guard called me off for being on top of the rocks..
A person approached me and asked me something which I couldn't hear. He said he was an artist and something else.
November 27th | 11:00 am. | Sunny